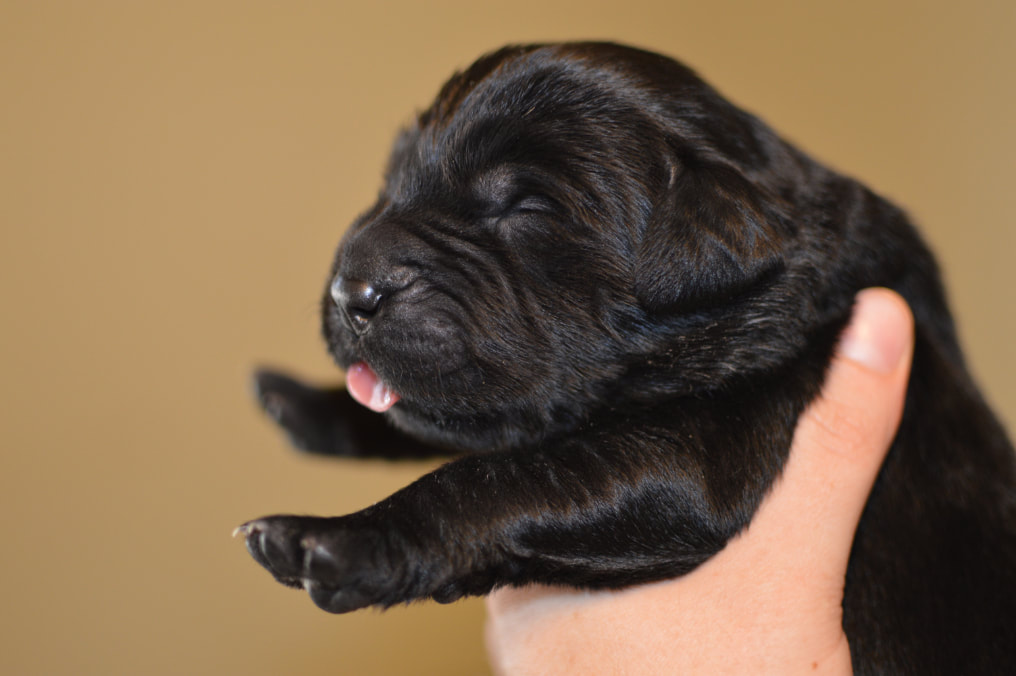 We provide these lists of
Newfoundland puppies
 in an effort to inform those interested when there may be upcoming litters available for sale.
We have waitlists for our Newfoundland puppies that are specific to gender and/or color, and other lists that are specific to a particular dog or breeding pair. We have other plans that are further out if the timing suits you better, feel free to inquire on those as well. Newfoundland puppies are not a product that we are manufacturing, they are a living, breathing animal with a soul, this is not Build-A-Newf-Workshop.
Upcoming Litters Cannot Always Be Promised
There have been, and there will be more times, that Newfoundland breeders have a breeding take place and a litter is not produced, nature is in control…. not the breeder. We never know how many puppies will be produced in a particular litter, nor the gender/color ratio of the puppies. If the Newfoundland puppy of your desire is not produced in an expected litter, you will maintain your position on the waiting list (for those who have placed deposits) and be informed the next time there are Newfoundland puppies available for you to choose between. Our Newfoundland puppies for sale are generally sold out before they are born, if we do have puppies for sale they will be listed on our Available Newfoundland Puppies page.
A $200 (non-refundable) deposit is required to secure you a position on the waiting list, the deposit will be applied toward the total adoption cost of the Newfoundland puppy. We do not have instructions for placing deposits for one of our Newfoundland puppies online, we require to have communicated with each person prior to accepting a deposit. Please contact us for more information about adopting one of our beautiful Newfoundland puppies for sale.
Limited AKC Registration adoption fees are $3,000 regardless of color or gender. If Full AKC Registration to include breeding and showing privileges is what you are seeking please communicate this prior to attempting to place a deposit on one of our Newfoundland Puppies for sale. Being a Newfoundland breeder is a huge responsibility, great care and consideration should be taken before making the decision to breed any Newfoundland. We have a strict approval process for Full AKC Registration when one of our puppies are sought out for showing/breeding homes, this includes an additional cost and more extensive communication with even experienced Newfoundland breeders.
Sarah Gray
(970) 560-0683
email: ​moorenewfies@yahoo.com
Palisade, Colorado
Please feel free to give us a call or send us an email with any of the questions that you may have about adopting one of our Newfoundland puppies for sale. We look forward to hearing from you, thank you for visiting our website and have a great day!
We are conveniently located just under four hours from Denver, CO
Moore Newfies Newfoundland Puppies for sale are available for homes in the following US states:
Alabama, Alaska, Arizona, Arkansas, California, Denver, Colorado, Connecticut, Delaware, Florida, Georgia, Hawaii, Idaho, Illinois, Indiana, Iowa, Kansas, Kentucky, Louisiana, Maine, Maryland, Massachusetts, Michigan, Minnesota, Mississippi, Missouri, Montana, Nebraska, Nevada, New Hampshire, New Jersey, New Mexico, New York, North Carolina, North Dakota, Ohio, Oklahoma, Oregon, Pennsylvania, Rhode Island, South Carolina, South Dakota, Tennessee, Texas, Utah, Vermont, Virginia, Washington, West Virginia, Wisconsin, Wyoming